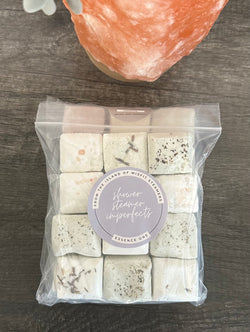 Essence One
EO Imperfects - Shower Steamers
EO Imperfects coming to you directly from the Island of Misfit Steamers*! 
We rescued these Imperfect Shower Steamers (that would normally be thrown away) and packaged them in a jumbo, surprise assortment bag of our favorite aromas like Morning Calm, Energy, Breathe, Sleep, and Lavender! Just because they aren't pretty, doesn't mean the don't still pack that powerful aromatherapy punch that you've grown to love.
We have a limited amount of these boxes and when they're gone, they're gone. Imperfects will be available only while supplies last and for a SUPER DEAL!   These resealable bags hold 27 shower steamers and have a retail value of $94.50.
You don't want to miss out. 
Snag them for yourself or as a gift while supplies last!  
*Cannot be combined with other discounts.