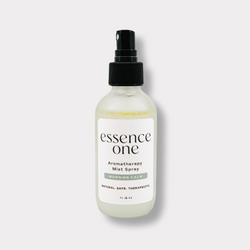 Essence One
Aromatherapy Mist Spray - Morning Calm
Our multipurpose, heavenly scented, mist spray is offered in 6 different aromas. They can be used to spray clothing, bed linens, and as an atmosphere and room mist. They are so good, you'll want to try a couple! 
Morning Calm mist combines spearmint, bergamot mint and a little patchouli that leaves you breathing deeply and feeling confident. Wake up, feel refreshed and take on the world with Morning Calm, our most popular scent.
Directions: Spray mist in air, on clothes or bed linens as needed. This is not a face spray.
Ingredients:  Distilled Water, Grain Alcohol, Vegetable Glycerin and pure essential oils