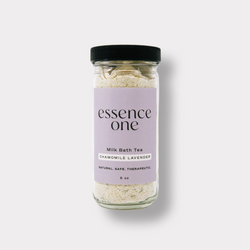 Essence One
Bath Tea – Lavender/Chamomile Milk Bath
Relaxation. It's what we all need. This Lavender and Chamomile Milk Bath helps relax you while moisturizing your skin. It's the perfect bath right before bed.
Coconut milk and oatmeal moisturize, soothe and promote healthy, glowing skin. It leaves skin feeling soft and silky. Lavender and Roman Chamomile essential oils help balance the nervous system and offer deep rest to the nervous system.
Ingredients: Oatmeal*, Sodium Bicarbonate, Coconut Milk Powder*, Lavandula x intermedia*, Matricaria recutita*, Lavandula angustifolia (Lavender)* and Chamaemelum nobile (Roman Chamomile)*
*these ingredients are organic
Customer Reviews
10/21/2021
Megan

United States
Is the cleaning worth the bath?
Relaxing bath, but I had to strain the lavender and camomile out of the water so it wouldn't clog my drain and rinse out my bath tub when I was done. Not sure if the work was worth the bath
Hi Megan! Great feedback. There is a tea bag included in your jar that allows you to fill the bag with the tea so you don't have to release all the herbs and oatmeal into your tub. We recommend that for easier clean up :)